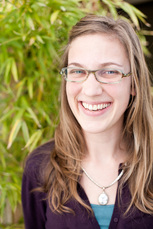 Angeleana Bumpas, LMT, CCST, Intraoral Endorsed
Angeleana lived in chronic pain for many years. She has experienced first hand the healing powers of the body through
NUCCA
, massage, and energy healing modalities. Drawn to massage through the natural process of dropping in and evaluating sources of nurturing, she is pleased to have found her place in the healing arts. Feeling blessed to step out of her comfort zone to find true well being, she is enthusiastic to continue growing and learning new ways of facilitating change in herself and others. A graduate of the Cortiva Institute's extended treatment program, she favored learning treatment massage and best appreciated the opportunity to learn specific approaches to resolving injuries.
She is dedicated to helping you establish or reinforce your path to health through touch. Whether your pain was caused by a specific traumatic event, illness, surgery, or has snuck up on you and not gone away, we can work together to restore neutrality and discover the space for you to thrive.
Email:
casapacificamassage@gmail.com
to request more information on appointments or forms for establishing care.
---